Conveyor Belts
COMPLETE INSTALLATIONS With all the elements and components needed
Technical assistance and on-site assembly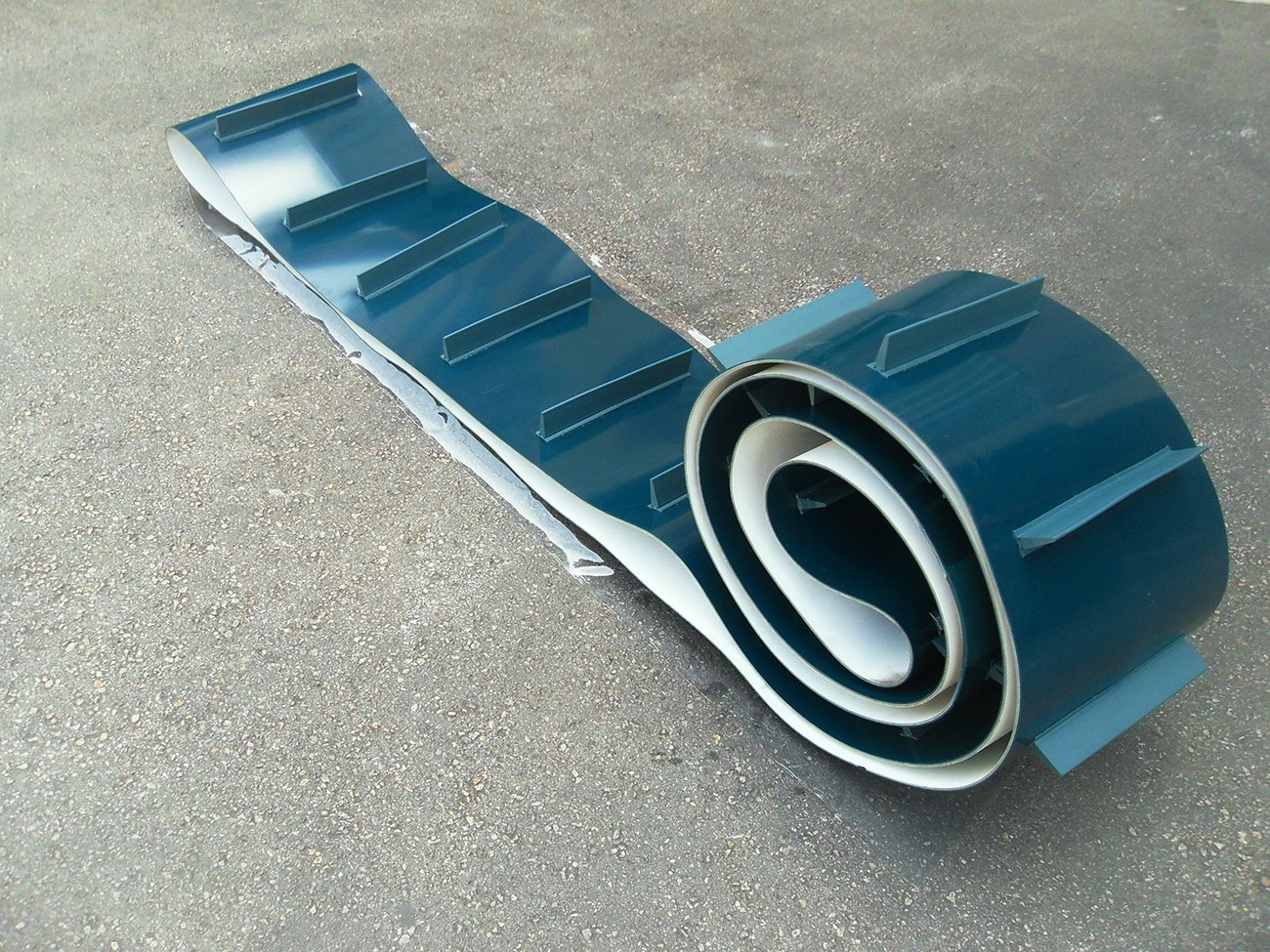 Commercialisation of complete CONVEYOR BELTS or by the metre. We provide you with every required element for self-maintenance: patches, dissolution, union rubber, staples for cold joints, adhesives.
We have a large variety of PVC BELTS of every width and length, for general transportation and specialised in the food industry, and belts that are non-toxic, smooth and engraved with longitudinal or horizontal profiles.
In

INDUSTRIAS DEL CAUCHO S.L.U. has a large variety of conveyor belts: they can be smooth and chevron; anti-heat, for high temperatures; flame-resistant, for installations that need fire safety; oil-proof, for transporting fatty materials; non-toxic, for contact with food.
For all kind of industries
Unbeatable quality price ratio
Strong adherence between textile layers
Manufactured with synthetic fabrics such as polyester-nylon
Low elongation to high strain
TYPES OF RUBBER
NR: Natural |SBR: Styrene-Butadeine |NBR: Nitrile | IIR: Butyl| EPDM: Ethylene Propylene
IDENTIFICATION OF BELTS
| 1200 | EP500 | /4 | 4+2 | Y |
| --- | --- | --- | --- | --- |
| Bandwidth in millimetres | Tear resistance of the frame | Tarpaulin number | Thickness in mm. of the upper and lower cover | Cover quality |
QUALITY OF THE COVER IN SOLIS BELTS
Cover quality
DIN Quality Standards
Rubber Base
Temp. Range ºC
Features
Abrasion Loss mm3.
Abrasion resistant
Y
X
W
SBR
NR
NR/SBR
-30/100
-40/90
-40/90
High resistance to abrasion
Excellent resistance, to impacts as well as cuts.
It has all DIN X features and is very resistant to hard abrasive materials
<150
<120
<90
Heat-resistant
T
T
T
SBR
IIR
EPDM
-20/170
-20/220
-20/400
Transport of hot materials
Higher heat resistance
Resistant up to 400ºC for short periods of time
Flame-resistant
KS
SBR/NR

-20/90

-20/90

Flame-resistant, for the transport of inflammable or explosive materials.
Completely fireproof, fire-resistant and suitable for miner activities
<200
Oil and grease-resistant
G
G
SBR/NR
NBR
-20/90
-20/120
Resistant to hydrocarbons and also to vegetal oils and greases.
Resistant to mineral oils and grease
COMPOSITION AND DESCRIPTION OF BELTS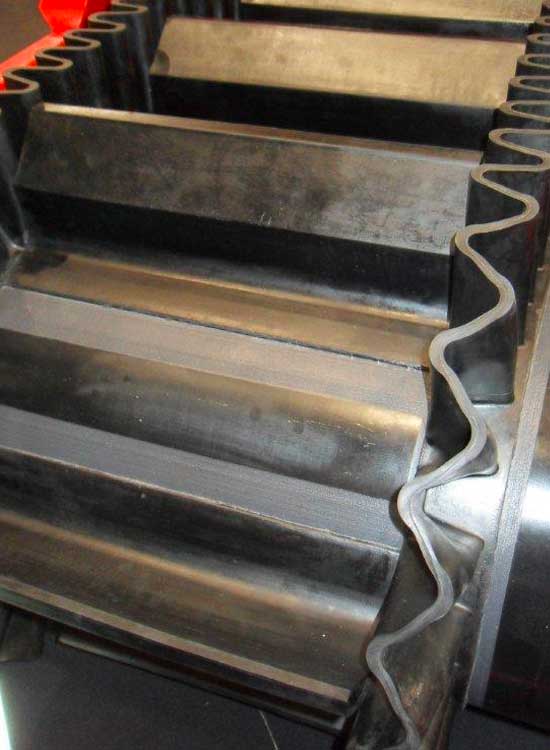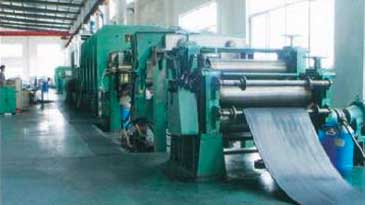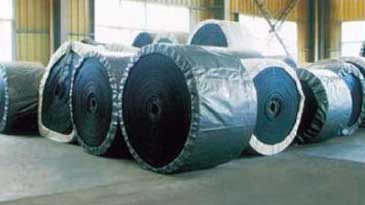 Our belts are made out of 2 to 6 EP fabrics Polyester (E) for wrap resistance (longitudinal), and Nylon threads (P) for weave resistance (perpendicular). All these parts make up the cover.
As regards to the coating, the upper rubber protects the belt; and the lower one protects the cover.
Their qualities and thickness depend on the type of materials they are transporting. The upper cover is at least 50% thicker than the lower one.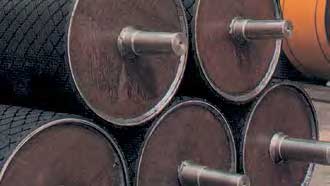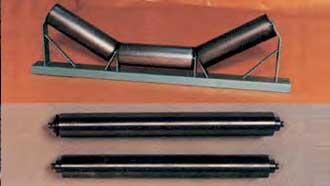 Because of their multiple applications, we make the coatings of a big rubber variety resistant to abrasion, oils, greases and general chemical products, in all hardnesses, with and without drawing, without measurements limit.
HOT AND COLD JOINT PRODUCTS
Cold joints
Cement + accelerator, primer paint, solvent, patches for reparations, tools.
Hot joints
Vulcanising solution, unvulcanised union rubber, on-the-spot vulcanising press.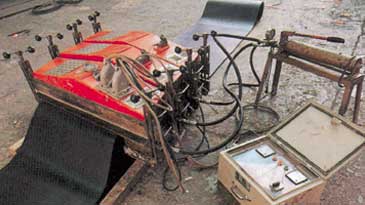 Sale of complete "press" equipment for on the spot reparation, and every required element for preventive self-maintenance: solution, patches, union rubber.
Reparation accessories: wire brushes, knives, emery discs for rubber, milling cutters, rubber grater machines.
Services and Permanent Conveyor Belts Stock 24/365
In our factory we have a wide stock of conveyor belts, which can be smooth and chevron and between 400 and 2.200 mm. in width.
Our mobile equipment for reparations, assemblies and complete installations are available 24 hours a day wherever you need them.
Emergency Telephone Number: +34 608 682 840
When buying SOLIS products, you are not only acquiring their belts and components. We have an after-sales service department and a technical service for costumers, both formed by specialists.